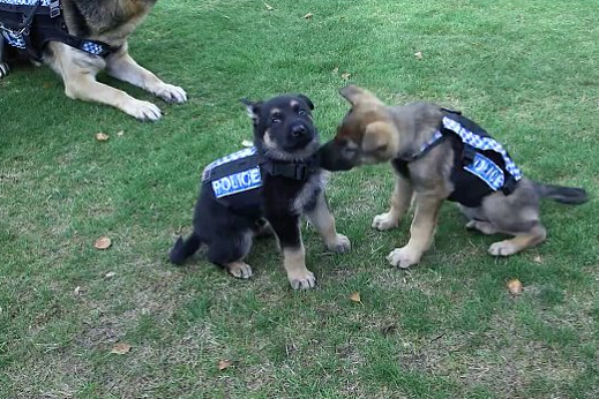 These K-9s in-training are testing out their future vest-uniforms, and man, do they look cute doing it.
German Shepherd pups Kuba and Loki seem more interested in playing than watching their role-model patrol dog demonstrate his impressive skills.
But can we blame them?

They'll learn soon enough.
The 'Mako' vests that Kuba and Loki are wearing have been designed to protect police K-9s from stabbings. All 130 patrol dogs part of the New Zealand police will be equipped with these vests by October, reports The Daily Mail.
It will be a while before Kuba and Loki are on duty, but we can't wait to see that day!
See another cute K-9 pup trying on a vest donated by Anderson Cooper:

German Shepherds are smart, confident and courageous. They make great K-9 officers as well as family dogs. Think this is the breed for you? Check out German Shepherd puppies on the AKC Marketplace.