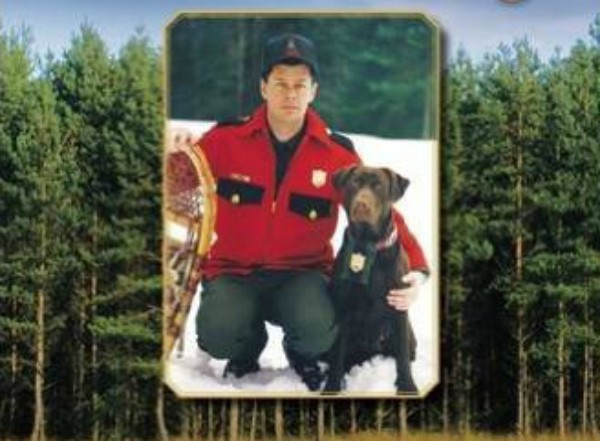 For Picks Of The Litter, a regular book review series, Ranny Green reviews "A Good Man With A Dog: A Game Warden's 25 Years In The Maine Woods," by Roger Guay with Kate Clark Flora (Skyhorse Publishing).
Are you ready for some adventure from the deep forests of Maine to the dark, dangerous streets of New Orleans?
Here you accompany Guay, who served with the Maine Warden Service from 1986-2010, is a master trainer and certified K-9 handler, into harrowing and challenging cases focused on arresting deer and moose poachers, searching for lost hunters and hikers, dealing with sick and attacking animals, and uncovering human bodies. But the majority of these endings would not have been successful without Reba and Radar, his Chocolate Labrador Retrievers.
Disappointingly, the Reba, Radar, and Roger Show does not unfold until about midway through the sobering narrative.
Guay describes his job as a "funny mix," one part about protecting fish and wildlife and the other about saving people, based on a foundation of "woods knowledge." As a warden, he sees both hatred and appreciation, noting that one of his early life's lessons is "if you're open and willing to learn, the people you meet can teach you a lot. They can give you different windows into the world."
Being a game warden is an ever-changing cat-and-mouse venture, physically and psychologically, with the public, Guay quickly establishes. "People in Maine don't necessarily think of poaching fish or wildlife as a crime. The crime is getting caught by the game wardens."
Consequently, patience and persistence are key to catching poachers, Guay writes, "especially those hard-core types for whom breaking the law was part of the fun." The complexity and challenge of the job has shifted the focus of Maine game wardens' jobs, forcing them to cover considerably more ground in recent years with the advent of all-terrain vehicles.
When Guay decides to get a canine, the department is phasing out the warden service K-9 program "because it wasn't doing what game wardens needed." Consequently, he was left to get Reba and pay all expenses, since he was convinced the dog would be a solid asset in apprehending violators. He gradually became self-taught, even getting a little assistance from his children who followed Dad's instruction and left tracks on a nearby trail via which Reba would attempt to find them with Guay's continued commands.
Gradually, the successes of Guay and Reba along with his partner, and her dog, help revive the K-9 program and broaden its horizons from search and rescue and night patrols for poachers to uncovering evidence and cadavers. Training dogs to find evidence, Guay says, means training them to find anything with human scent, gun powder, brass or any combination thereof. In other words, a canine-style CSI. Guay estimates he has carried more than 200 bodies out of the woods during his career.
Trust is key in this partnership, the author emphasizes. "I can train a dog in three or four months and make him a pretty decent dog. It's gonna take me a year or more, probably longer, to train the handler, because the handler will always want to override the dog. The dog is willing to do its part. It the human part that doesn't conform.
"It's not until you learn to trust your dog that the two of you can work together as a team. Usually that happens after you have been humiliated."
"A Good Man with a Dog" has a mosaic-like feel amid plenty of anecdotal substance and splash. Whether it's rescuing a lost 98-year-old alive or uncovering the bodies of two babies buried in plywood boxes in a Maine state park by Massachusetts cult members, this emotional bumpy ride moves with gusto once the Roger and Reba partnership is established.
Guay and his search/cadaver dog Radar, were called into New Orleans – twice, several months apart – with another team following Hurricane Katrina and confronted with a whole new set of challenges from a life-threatening street encounter to body searches in unstable buildings in the Ninth Ward. He characterizes the missions as a "total train wreck."
Guay adroitly details the emotional and physically draining assignments, which involve the dog teams chopping through rubble, walking on glass, pawing through hazardous debris and searching water-damaged houses.
They recover the remains of many victims, providing closure to many grief-stricken families. On the second trip, months after Hurricane Katrina, Radar and Buddy, his German Shepherd co-searcher, indicate a body in a home, even though none could be seen. Closer inspection found the victim lying just out of sight behind some ductwork in the attic. This find produced national media attention and again dramatized the worth of cadaver search dogs.
But the New Orleans responses took its toll on Guay, resulting in PTSD, nearly "destroying" him. "PTSD isn't something to be 'gotten over,' it's something you adjust to, because it changes you. In all the law-enforcement training that we had, PTSD was a big part of it; what they didn't tell us is that it changes your life forever. That's the reality. You don't go back to what you were. It's not like an illness where you get sick and then you get better. You have to cope with it for the rest of your life, so you have to learn the mechanisms and the things that help you get steady again."