It's a Christmas miracle for a bad-tempered Chihuahua who became famous as "Eddie the Terrible."
The Humane Society Silicon Valley, Milpitas, California, was brutally honest about their 2-year-old ball of ire, who had been waiting for a forever home for 15 months. They made national headlines with their video, in which they cast him as the monster in horror movies, dressed him as a devil, and showed him in his Thundershirt, snarling at the camera and lunging at a pair of bewildered pit bull puppies.
"A Full Disclosure Blog: Three Reasons You DON'T Want To Adopt Eddie The Terrible," read a December 9 entry on its website.
But, this being the season for faith, hope, and belief in the goodness of all earth's creatures, two brave souls, Deborah and Randolph Espinoza opened their hearts to the tiny terror. "When I saw his face, that's when I said, 'Wow, that is a cute dog," Deborah told ABC News.
Added Randolph, "We found the perfect dog for our family."
So here's a Christmas wish for all those lovely dogs who are without a family this holiday season: May someone look at your picture, fall madly in love, and give you the home you deserve.
And for Eddie the Terrible and his new family, here's a New Year's challenge from the AKC.
In 2015, show the world that under all that bluster, bite, and bared fangs is a really, really good dog. A great dog. And what better way to do that than to pass the AKC Canine Good Citizen Test?
This time next year, you could be like this happy dog, having earned a winner's rosette and a kiss from your proud owner.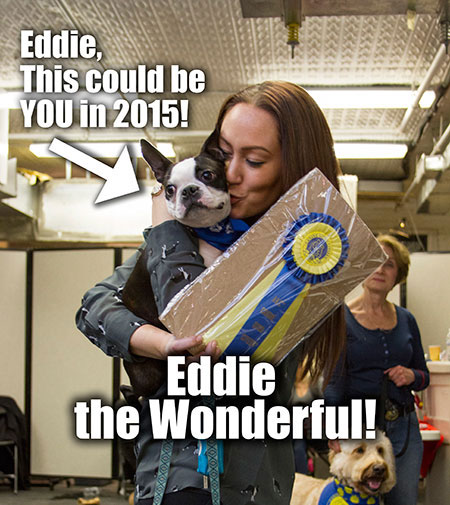 You can do it. You can!
You just have to believe in miracles.
Check out this former Vick dog who made an inspiring turnaround.