It's the holiday season, and Pete Buchmann was down on his luck.
The 54-year-old Delaware man lost his mother and his sister over a year ago. More recently he lost his job and his car, which he sold to afford his apartment. When the money from that ran out, he lost his home as well.
But he got to keep his dog.
When Buchmann found himself homeless, his concern was for his best friend, Buster, a 9-year-old mixed-breed dog. But thanks to the employees of Faithful Friends Animal Society, a no-kill shelter in Wilmington, Buster had a safe, warm place to stay while his owner worked to get back on his feet.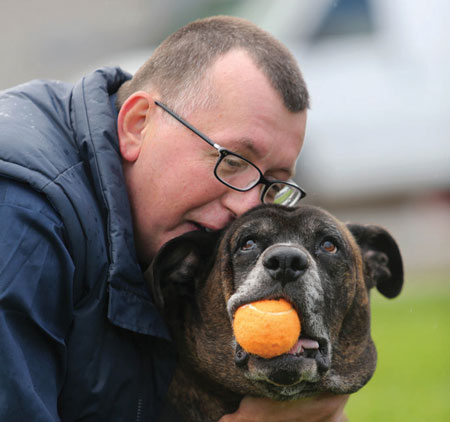 JENNIFER CORBETT/THE NEWS JOURNAL

The organization set up a temporary "apartment" for Buster. Buchmann walked two-and-a-half miles each way, every day, to take Buster for a walk, Delaware's News Journal reported. He even helped out at the shelter walking the other dogs. "I am just amazed at his attitude," the shelter's executive director Jan Pierantozzi told the News Journal, a Wilmington newspaper. "Most people in his situation would be depressed and angry, but he isn't." Pierantozzi was reportedly so impressed with Buchmann's dedication that she tried to help him find work.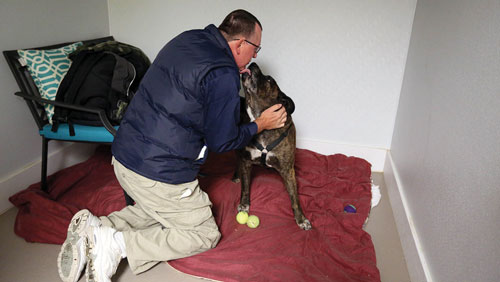 JENNIFER CORBETT/THE NEWS JOURNAL

She's not the only person this man's story has touched. Since the article on Buchmann published, so many people have reached out asking how they can help that the paper published an update with ways to support him and Buster. One reader even started a GoFundMe account that raised more than $30,000 for him, according to an update in the News Journal. He was also gifted a donated used truck.
But the best was yet to come. Pierantozzi reported to WOOFipedia that this week Buchmann starts his new job and that he and Buster moved into a new apartment, which was furnished with donated items.
Looks like Buchmann and Buster will be home for the holidays after all.
Special thanks to reporter Deborah Lucas and the News Journal for information and photos in this story.
Top photo: JENNIFER CORBETT/THE NEWS JOURNAL
Also read about this veteran who got his Christmas wish for a dog this year.
And check out this video showing how dogs can change the lives of veterans.