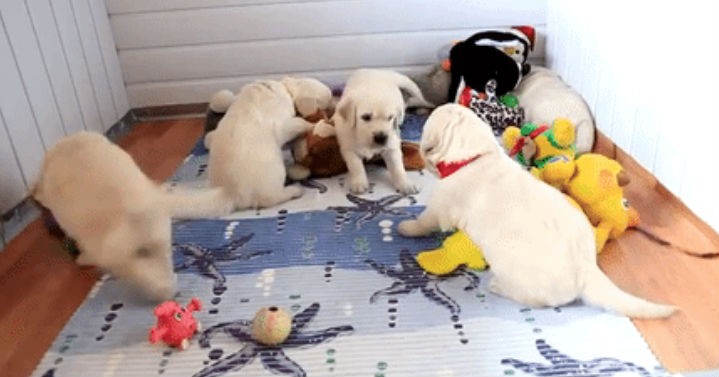 It's hard work being cute, so all puppies deserve a little play. Whether riding solo or in a group, these pups sure know how to make the most of every situation, and they couldn't be more darling while doing so. Here's to a doggone good time!

Sometimes you just need to appreciate life's simple pleasures. Going down a slide over and over again might be be boring for some, but these puppies make each repetition a new experience.
If only we were all this easily entertained! These little ones might have more fun getting to the excitement than actually experiencing it.
These Golden Retrievers are as selfless as they are adorable. Not wanting their mom to miss out, they drag her into the fun with the philosophy that a good time is always made better with good company.
These Huskies might have just started a doggie game of tag, and look how much fun they're having!
For these buddies, satisfaction comes in the form of friends, plush toys, and hugs. Sounds about right.
And this is just too much.
And sometimes some puppies are just too cute that you can't resist joining in on the fun.