Last month we introduced you to Swagger, the Cleveland Browns' new Bullmastiff mascot. When he led the Browns onto the field for their September 14 home opener, he became the only live canine mascot in the NFL.
It might be something new to have a drooling, snorting good-luck charm in the pros, but in the college ranks, dogs and football have gone together since 1898. That's when Yale first trotted out Handsome Dan, said to be the original sports mascot.
Here are three of America's favorite wet-nosed, tail-wagging cheerleaders.
Uga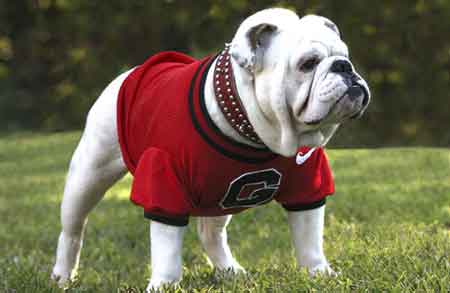 Hundreds of high-school and college teams call themselves the Bulldogs. But it's Uga, of the University of Georgia, who's the most famous—even surpassing old Handsome Dan himself. (It might have something to do with the fact that UG is a perennial powerhouse, whereas the last time Yale fielded a top team the players were wearing leather helmets.)
A long line of Ugas—a total nine dogs—has patrolled the Bulldog sidelines since 1956, all provided by the Seiler family of Savannah. Ugas I through VIII are buried in marble vaults within Sanford Stadium, and before each home game flowers are placed on the graves.
Because of their flat snouts, warm weather can cause labored breathing in Bulldogs. But thanks to his on-field air-conditioned doghouse, Uga IV can breathe easy and howl for the Dawgs on those sultry Georgia afternoons in August and September.
Smokey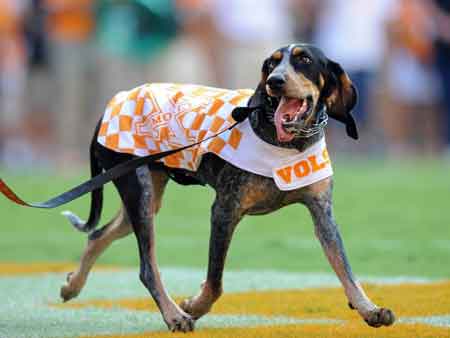 Tennessee has always been coonhound country. No surprise, then, that the University of Tennessee Volunteers mascot is a Bluetick Coonhound. Since 1953, a coonhound named Smokey has guarded the UT end zones and bawled in a loud, ringing voice for every Vol touchdown.
The original was a titled hunting dog named Blue Smokey, owned by Reverend Bill Brooks. The first nine Smokeys were, ironically, out of a breeding line from South Carolina, not Tennessee. UT is proud to point out that Smokey X is the first of the school's Blueticks to be Tennessee born and raised.
"When Smokey X was 2 months old, he was 26 pounds. The runt of the litter was 5 pounds," says breeder Wendy Davis, of Shelbyville, who was tasked with selecting the current touchdown hound. "He was so much bigger than the rest of the puppies. And, I thought, that's Smokey."
Reveille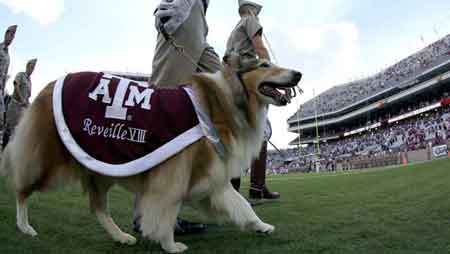 Reveille the Collie is the official mascot of Texas A&M University. The current Reveille (named for the traditional military wake-up call) is the eighth of the line.
As a Senior Military College, Texas A&M has a full-time Corps of Cadets. When the first Reveille died in 1944, she was given a formal military funeral at Kyle Field. She was buried at the north entrance, as all Reveilles are, facing the scoreboard so she can always watch the Aggies whup their opponents.
Reveille has the run of the sprawling 5,500-acre campus. An Aggie website says that "if Reveille is sleeping on a cadet's bed, the cadet must sleep on the floor. Cadets address Reveille as 'Miss Rev, ma'am.' If she is in class and barks while the professor is teaching, the class is to be immediately dismissed."