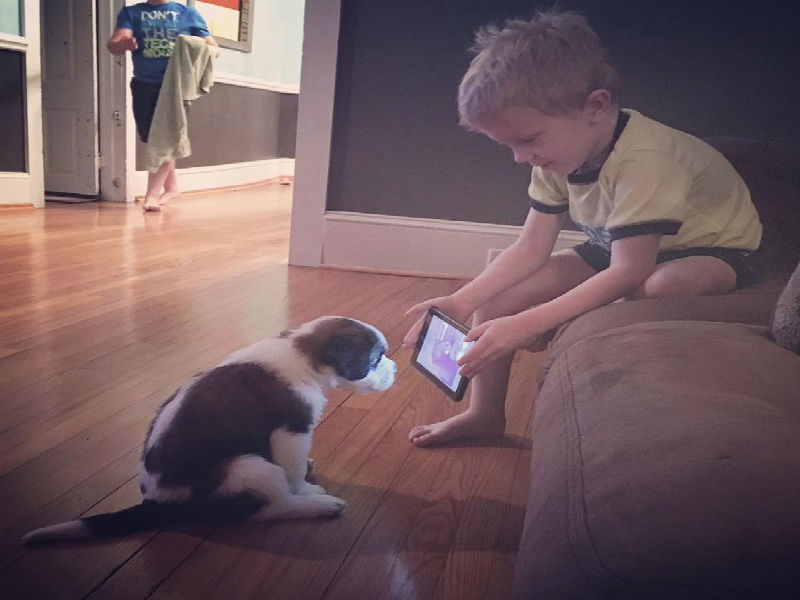 When parents of 4-year-old Lincoln Ball told him he was responsible for training his new St. Bernard puppy, Lincoln knew just what to do.
He grabbed his iPad and began to play a training video directly for the pup, named Bulzer.
Daniel Ball had indeed suggested that his son, Lincoln, look up YouTube dog-training videos, he told ABC News.

Lincoln took the suggestion and ran with it, creating this sweet moment which his mom recorded. Lincoln's uncle uploaded the picture to Facebook, where it has gone viral.
Bulzer, who Lincoln received after finding out he was severely allergic to outdoor allergens (but not to pets!), has certainly found a lifelong, and technologically-savvy friend.
But Lincoln's not the first one to introduce his dog to the wonders of technology. Check out this Dachshund and his iPad below:

To find some tried-and-true dog training techniques, check out the information here.
Related:
Your Jaw Will Hit The Floor When You See This Army Dog's Training
Belgian Malinois Stares at Two Bottles Filled With Treats, Now Keep An Eye On His Paws