The healing power of dogs is the best consolation prize.
Losing a family member or friend brings with it grief, anxiety, fear, and stress. Can you name a better cure than a dog for such a difficult time? (We can't.)
Therapy dogs work in hospitals, nursing homes, schools, and other places where a soft coat and warm eyes soothe those in trouble or pain. So why not a funeral home.
According to the Associate Press, picked up by ABC News:
Sandy Del Duca was mourning the death of her father at the Ballard-Durand funeral home in White Plains, NY, when a curly-haired, sweet-faced dog came bouncing bounding down the stairs. Enter Lulu.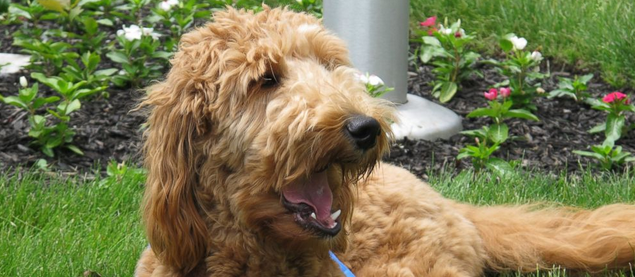 More than just the pet of the facility's owner, Matthew Fiorillo, Lulu is also considered a staffer. She is part of a growing movement by American funeral homes to use the healing power of dogs to comfort mourners.
"That dog looked into my eyes and I was done," Del Duca tells the AP. "She seemed to know just what I needed. A funeral is a funeral, it's not a great thing. But that dog gave the service a family atmosphere and made it more of a celebration."
Funerals are not only sad, the atmosphere is often strained. Trained therapy dogs are well-known to lighten the mood. They are drawn to those who need them the most.
The AP's Jim Fitzgerald reports that Mark Krause, owner and president of Krause Funeral Home and Cremation Service in Milwaukee, Krause bought Oliver, a Portuguese Water Dog, to be a family pet. After being trained to do therapy work, Oliver visited the traditional facilities.
So Krause's wife said, "Why can't he do this in the funeral home?" Ten years later, Oliver has likely a couple thousand families, according to Krause said.
In another case, a young boy had completely stopped talking following the death of his 3-year-old sister.
"The minute the dog came in, the boy started talking to him about his sister," Krause tells Fitzgerald. "This little boy tells the dog, 'I don't know why everyone's so upset, my sister said she's fine where she is.' "
"I don't suppose Oliver understood, but he looked at the boy as if he did," Krause added.
When Oliver died in 2011, 150 people showed up for his funeral. Benny, another Portuguese Water Dog, carries on the work of providing love in the time of loss.
When mourners come to the Fiorillo's funeral home to make arrangements, he tells them about Lulu. No extra charge for the canine comfort. Almost no one declines the offer.
The American Kennel Club recognizes in the AKC Humane Fund's Awards for Canine Excellence. If you know of a service dog who deserves to be honored, fill out a nomination form.
Does your dog have what it takes to be a therapy dog? Find out.
Portions of this article Copyright Jim Fitzgerald/Associated Press with News Researcher Jennifer Farrar in New York
Photo courtesy:
Jim Fitzgerald/Associated Press