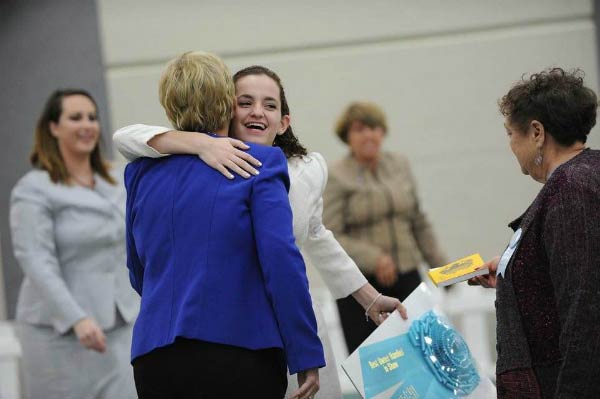 For 18-year-old Samantha Aimar, focus and perceptiveness in the show ring have a special meaning and emphasis.
Aimar, who last year graduated from juniors, is deaf, and consequently must keep a close eye on the ring, steward, and judge at all times when presenting her partner, Dude, a Pomeranian with which she finished as No. 1 Toy junior for the AKC / Eukanuba Championships qualifying year in 2015.
She will be returning to New York City in February for the second straight year at the iconic Westminster Kennel Club Dog Show.
The Brownstown, Michigan handler will be accompanied to the Big Apple by her parents, Anne and Jim Aimar.
"There aren't any more challenges being deaf at Westminster than at other places," she says. "It is a huge venue [Pier 92], so if anything, I have to pay close attention to what is going on around me. With my parents alongside, I have an interpreter in case it's needed. At some shows there are individuals who know sign language, which is always a nice surprise."
Her protocol before entering the ring is to inform the steward that she is deaf. Hence, it is that individual's responsibility to let the judge know, too, before she presents Dude.
"One facet with being deaf in the juniors ring was I had some judges who would forget or were not informed by the steward," Aimar adds. "They would give directions and have their back to me so I wasn't sure what pattern to do. That was mostly when I started showing, and it ended up costing me some wins. But after I was recognized, more judges would make a point of looking at me when they spoke or pointing out the pattern. It hasn't been much of an issue in the breed rings."
In her travels, Aimar hasn't encountered any deaf exhibitors, although she has met a couple of judges who were hard of hearing. "One even knew sign language," she recalls.
The teen is the only member of her family who is deaf. She had a severe reaction to a MMR (measles, mumps, rubella) vaccine at 15 months of age, which left her without hearing.
She began showing dogs at age 9 with a Pembroke Welsh Corgi and has since exhibited Dude in juniors.
Eventually, her sister, Brooke, suggested a Pom would be a nice fit, which has certainly been the case. At the time, Brooke co-owned and showed Dude. "His breeder thought it would be a good fit for both of us," Aimar says. "We clicked the first day and I went on to show him for four years before aging out of juniors."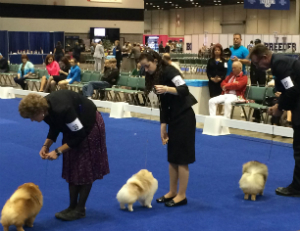 As a youngster Samantha was involved in dance and gymnastics before segueing to dog handling. "I saw how hard Brooke worked showing dogs and I made the decision to quit dance and gymnastics and focus 100 percent on handling. I didn't want anything to distract me. At first it was hard because I missed both the other sports, and my friends. I had been at dance four nights a week and gymnastic two. But after a few shows under my belt, I knew I made the right decision, thanks largely to Brooke's inspiration."
A college student, Brooke, 21, has been showing dogs since age 10 and is a junior show judge.
Dude was a natural fit from the get-go in partnering with Samantha.
"He knew exactly what I wanted him to do. I wasn't nervous at all when showing him, although he is the first toy breed I have shown."
Dog-show travels have taken her to the East Coast and well as most of the Midwest, competing in more than 100 shows last year.
While she cannot hear others cheering and clapping for her around the show ring, she can spot them and pick up on Dude's reactions, too.
Samantha recalls a memorable moment at a Kalamazoo, Michigan, show last year, "It was so special that we had so many rooting for us. I knew Dude could hear it because whenever the crowd clapped he got more and more excited. The louder they were the more he reflected it. He started vibrating and looking back at me with a smile. So even though I couldn't hear it, I could feel it through him."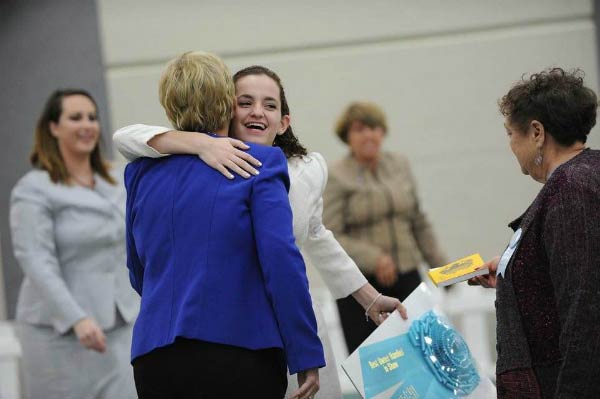 When asked what AKC could do differently in its judges' training to meet the needs of deaf handlers, Samantha replies, "I am not sure. I don't know any other deaf handlers, and the majority of the judges I've shown under have been very accommodating and my deafness has not been an issue. I do not want to ever be singled out as being deaf. I do everything I can to blend in with everyone else."
What advice would she offer another deaf handler starting out? "Pay attention and watch your rings," she advises. "Don't let anyone discourage you. Showing dogs is about the dog and the handler. It's not about who likes you and what they say about you. People will be critical, but that doesn't matter. All that matters is your dog and show him or her to their best potential. Focus on your dog and your goals for that dog."
Header image: Cally Matherly