Summer is the perfect time to bond with your dog and Mother Nature, but after a long day in the fresh air and sunshine, the last thing you want to deal with when you get home is muddy paw prints all over your new khaki carpet, gritty sand on your clean sheets or a house full of pollen your dog shakes off his coat as soon as he gets inside. In large part, summer grooming is about keeping the outdoors, well, outdoors.
Your first line of defense against mud, dirt, stink, pollen, and other outdoor messes is to check your dog before you let him back inside. Dogs love routine, so once he gets used to this new one, he shouldn't mind at all.
Step outside rather than letting your dog step in. Check his paws, his coat, his rear, and his underbelly. Is he muddy, dirty, dusty, or stinky? Fix the problem outside and you'll never have to deal with it inside. It sounds simple, even obvious, but few people do it. This easy new habit can save you tons of work cleaning your carpets, furniture, and clothing.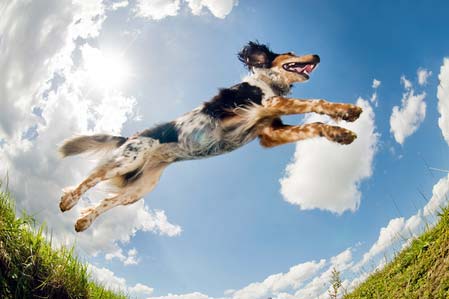 Keep a few key grooming tools by the door your dog uses to go in and out, and add a routine once-over before letting him back inside. Muddy, messy, stinky, sneezy summers will soon become a distant memory.
Originally published in AKC Family Dog.