So You Want the World's Biggest Dog? Five Reasons to Think Twice
Everybody loves Clifford the Big Red Dog. Published in 1963, this best-selling children's book by Norman Bridwell tells the story of tiny red puppy, the runt of a litter, who grows and grows and grows until he's 25 feet tall. For Bridwell, writing the book was a bit of wish fulfillment. As a child he had dreamed of having a dog big enough to ride.
Apparently, judging by the 129 million copies of Clifford books that have been sold and countless spinoffs, that fantasy is one held dear by children and adults alike. Enormous dogs, like Great Dane Giant George, certified by the Guinness World Records as the tallest dog ever, and Zorba, the Mastiff who, at 343 pounds, was said to be the heaviest ever, always become minor celebrities. Even a relatively petite one, the 173-pound pit bull known as the Hulk, was a recent media sensation.
Even if they're not world record holders, or sturdy enough for a child to ride, there's no question that big dogs have a distinct allure. But before you go off in pursuit of your own personal Clifford, you might want to consider some of the downsides to owning a canine colossus. (Great Dane Courtesy Eileen Edelblute)
Can you laugh at the same bad joke over and over without having your blood pressure go through the roof?
"Where's his saddle?" "Is that a dog or a horse?" If you find such efforts at small talk annoying, a big dog might not be for you. This is because people can't resist. They have to say something. And they say it with such earnestness, and a nudge and wink, as if no one ever uttered those words and you have never heard them. There's nothing you can do about it, even after you've listened to the same joke four times in the space of a city block. Just pretend to laugh heartily and hope that the next person you pass won't notice the 150-pound hairy creature by you side.
Kiss your couch good bye.
No room for humans on the couch when there's a big dog in residence. That is, of course, unless you are one of those people who bans the dog from the furniture. And who wants to be the kind of person who bans the dog from the furniture?
Mini Coopers are out of the question.
Your dog has to be a regular Miss or Mr. Manners.
A dog behaving badly is never a good thing, but when you have one who outweighs you, it's more than obnoxious. It can be downright dangerous. At 100-plus pounds, a dog who pulls, jumps, lunges at other dogs, or slams into people can do real damage. Socialization and training must start early as possible and it be structured and goal-oriented. Programs such as AKC's S.T.A.R. Puppy, Canine Good Citizen, and Community Canine should be a goal of every dog, but passing these tests is especially important for large ones. The upside of all this training is that big super talented dogs attract a great deal of attention and applause. Want to make friends? Run a Great Dane or a Saint Bernard in agility. You may never win against all those speedy little Border Collies, but you are guaranteed to have an audience cheering wildly every time those giant paws balance gracefully on a dog walk or power over an A-frame.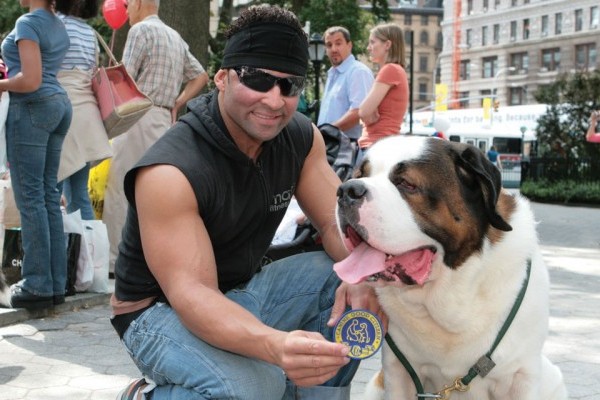 Their candles burn out quickly.
The sad truth is that the bigger the dog, the shorter the life span. Clifford's been galumphing around for more than half a century, but with a living, breathing giant dog, a decade is considered a good run. This is something that people who love them learn to endure. "Perhaps it's making lemonade," Irish Wolfhound fancier Anne Gallant told the AKC Gazette in 2006, "but I have been able to live with and love many more individual Wolfhounds, given their life span, than I would have with the typical canine life span of 14 years."