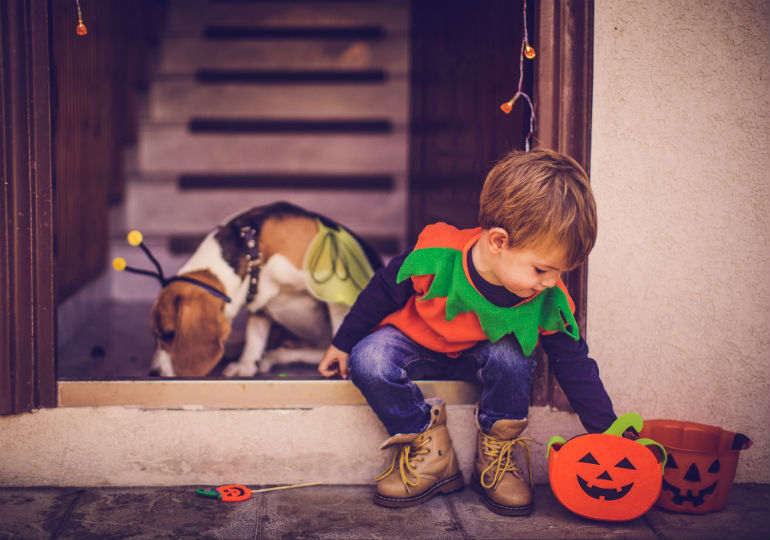 Halloween, also known as the Eve of All Saints' Day, could drive your dog to anything but saintly behavior. But there is a lot you can do to prepare your dog for the arrival of trick-or-treaters, so the event is a fun night and not a fright night.
For most dogs, the ringing of the doorbell on an ordinary day is a very big deal. On Halloween, with hordes of shrieking children wearing the doorbell out, it can be a downright scary experience. If your dog is likely to be overly stressed by the continuous activity, then the best thing is to give him the night off. Put him in his crate in a quiet room with a treat like a stuffed Kong or bone that will keep him occupied.
But if your dog loves people, and you want to make him part of the Halloween greeting team, here are some tips to help get him ready for the big night:
Socialize early with costume-wearing kids and adults. Get your children or neighbors' children to dress up a few days early and feed treats to the dog. Wear hats, ponchos, and glasses to expose your dog in a positive way to covered heads and faces, since dogs often don't like being unable to see the eyes of humans or other dogs.
Have friends and their children practice with your dog by ringing the doorbell and going through the "trick-or-treat!" routine. Stay calm when you answer the door and reward your dog for calm behavior. The reason many dogs go crazy when the doorbell rings is because we always go crazy when the doorbell rings!
Make sure your dog is wearing an identification tag on Halloween night. With all the activity, your dog is more likely to get lost if he slips out the door. All dogs also need permanent identification, like a microchip, in case they are ever lost.
Candy is not good for dogs and can even be poisonous for them, so keep it out of your dog's reach. Teach "leave it." It's something every dog should know and is surprisingly easy for dogs to learn. In the craziness of Halloween, it's easy to overlook dropped candy or miss someone giving your dog a "treat," so keep a close eye on your canine companion.
Have plenty of yummy, dog-appropriate treats by the front door to reward your dog for good behavior and to hand out to any trick-or-treating dogs that stop by your house.
Would you like to eliminate the doorbell issue? Set up your trick-or-treat greeting station on your porch or in your yard. Put on your costume, and let your dog sit with you as you relax on the front steps with your bucket of candy and hand goodies to the kids before they get near the doorbell. You may end up having the most popular house on the block!
For more safety tips, check out our activity and safety guide for Halloween, here. And if you're looking for a costume for your dog, we've got some ideas in our comprehensive costume guide!