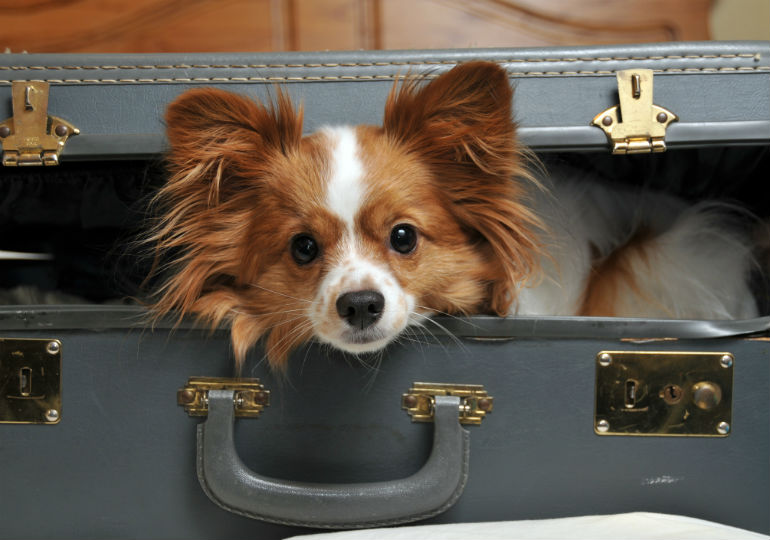 This article is sponsored by United PetSafe.

In today's fast-moving and global society, people and pets are traveling more than ever. From families who want to stay together—including Fido—while relocating overseas, to those who patiently await the arrival of a perfect canine companion found online, there are jet-setting pets flying around the world every day.
At United Airlines®, we work hard to make sure your pets have a safe and comfortable experience when traveling with our PetSafe® service. It's important to know that when your pup needs to travel internationally, there are many additional precautions that owners and breeders must prepare for to ensure a safe, smooth journey. To assist with your international travel plans, we've compiled a few tips for you to begin your dog's trip abroad.
Allow extra time for planning
For dogs traveling from the U.S. to other countries, advance planning is critical – sometimes even beginning as early as six months in advance due to strict animal import requirements in certain countries. For any pet travel, you should be familiar with crate and shipping requirements, pet restrictions, mandatory health documentation, and more. You can learn more about our policies by visiting our PetSafe page.
Research international pet restrictions
With so many pet travel restrictions varying by location, it can be difficult to know which ones apply to your pet's destination. For detailed information on international pet travel from the U.S., you can view the U.S. Department of Agriculture's Animal and Plant Health Inspections Service's page on Pet Travel. You should also consider contacting the consulate or embassy of the country you plan to travel to or visit the International Air Transport Association's Traveler's Pet Corner Traveler's Pet Corner to determine pet travel regulations and requirements.
Contact your veterinarian
Locations that are considered rabies-free, such as Australia, Hawaii, Japan and the U.K., have numerous requirements including specific and thorough health documentation and veterinary exams. When traveling from a rabies-controlled country to one of these rabies-free countries, your pet must have a proper pet passport, microchip, import permit and blood titer test. It's important to note that there may be a waiting period of 120-180 days from the time of the blood titer test until the time you enter the rabies-free country. If you do not follow this requirement, your pet may be quarantined at your destination or even returned to the originating country. Whether your pet is traveling to a rabies-free location or not, make sure to contact your veterinarian to discuss your pet's health and travel plans, and to obtain all of the necessary paperwork.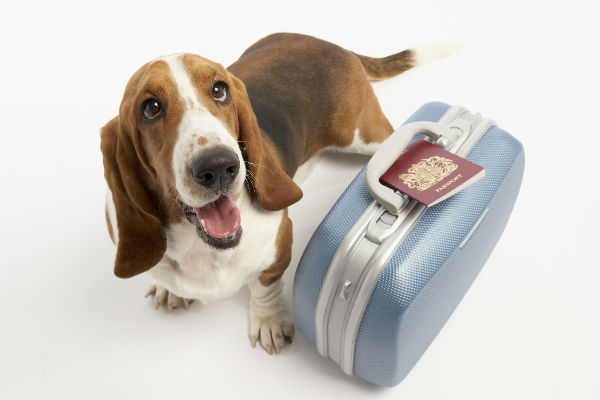 Consider a professional shipper
Some countries, including rabies-free locations, may require that your dog be placed in quarantine upon arrival. In these situations, it's recommended — and sometimes even mandatory — for you to hire a professional pet shipper to coordinate travel. You can find more information and locate a qualified professional by visiting the International Pet and Animal Transportation Association website.
Prepare for travel back home
Bringing dogs into the U.S is somewhat easier than into other countries, but it still requires advance preparation. For instance, puppies must be vaccinated for at least 30 days before arrival to the U.S., and since puppies can be vaccinated as young as three months old, puppies will need to be at least four months old to enter the U.S. The Centers for Disease Control and Prevention (CDC) may allow unvaccinated puppies to enter the U.S. if they are being imported from a rabies-free country, but it is best to check with all CDC regulations. You can also view Animal and Plant Health Inspections Service's page on Pet Travel for more information about dogs and puppies entering the U.S.
Rest easy with your dog in our care
PetSafe makes sure to take extra care of dogs traveling internationally. We have deluxe onsite pet hotels and offsite facilities to accommodate dogs during long connection times and before international travel. Our dedicated team of animal lovers makes sure dogs get to stretch their legs, relieve themselves, and have some reassuring, quality human interaction. For more information about us and our services, please visit the United PetSafe page.
This article is sponsored by United PetSafe.