A Bonding Opportunity: Grooming Your Own Dog
By AKC GoodDog Helpline Trainer Hilarie Erb
Are you missing out on a great way to bond with and even train your dog? If you're not grooming him, then you might be.
Do you own a low-maintenance dog with a smooth coat? A quick weekly brushing is all she needs to make an all-over check to be sure there is nothing that needs veterinary attention, such as lumps, bumps or skin problems. It will also help with shedding. Many people are surprised to learn that smooth-coated breeds shed more than many longer coated breeds.
If your breed requires skilled grooming and clipping, don't be intimidated by the job. Your dog won't hold it against you if it's not perfect the first time!
Even if you use the expert services of a professional groomer, you still need to keep up with combing and brushing in between visits. If mats are allowed to develop, they can cause discomfort to the dog, and they will make the grooming experience more difficult for the groomer and dog alike. Your groomer will appreciate that you've maintained your dog's good condition between visits.
How does grooming the dog benefit him? Most dogs love the attention. Brushing feels good and keeps the skin and hair healthy.
Your dog will learn that it's okay to allow his body and feet to be handled; you will be building trust with your canine companion. As for you, it's very relaxing and satisfying to spend more time with your dog while helping him look and feel his best.
For more tips and advice on living with your dog, enroll in the AKC GoodDog! Helpline, a seven-day-a-week telephone support service staffed by dog trainers: www.akcgooddoghelpline.org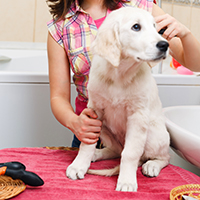 The All-Purpose Grooming Tool kit
Do you have everything you need to keep your dog in tip top shape? Not sure where to start? This e-book will outline how to put together the perfect grooming kit for your dog.