Why would anyone want to be put on the spot in the middle of the dog show ring with the prospect of being criticized regardless of what they do? Well, it certainly would not be for the money, since so much time, effort, and personal expense is expended in completing the requirements for AKC approval. It would not be for the many friends you would make, since it is usually just the winners who are happy with a judge's choice. I do hope it is for love of the sport of dogs and for an honest desire to make a positive impact on the breed.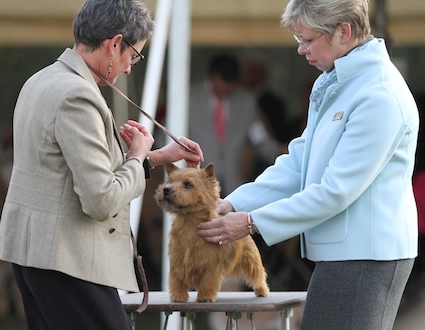 Personally, I believe we need more breeder-judges. Some people feel that a breeder-judge may just focus on the one or two particular breed qualities that are most important to him, while others feel that an "all-rounder" is more likely to see the entire dog and therefore make a more appropriate selection. Both positions have validity. However, I believe the breeder-judge may bring to the ring a more in-depth understanding of the breed and a sense of responsibility to the future of the breed, as well as an historical reference that may ultimately impact the breed in a positive way.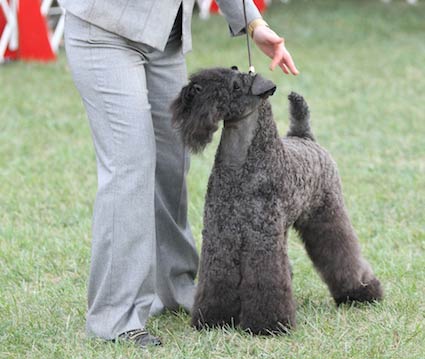 As a breeder-judge, you may know the quirks of a Kerry Blue Terrier puppy and allow for his youthful enthusiasm and realize the adjustments you must make for a puppy's shy period, when he needs a reassuring and gentle hand while going over the dog. As a breeder, you have seen the variations in the process a coat goes through before reaching maturity, so there is no confusion over a puppy's brown or dulling black coat, when judging. Hopefully, because it is your breed, you focus more on the total attributes of the dog and less on factors that should not influence your decision.
The AKC has put into effect a rule whereby a national club could recommend an experienced person in the breed to judge one of their club's events. Just a little paperwork must be filled out and submitted to the AKC for approval, but I am not sure this option is very well publicized, so not many clubs have applied for this option. This year our breed's parent club, the United States Kerry Blue Terrier Club, has applied for this option.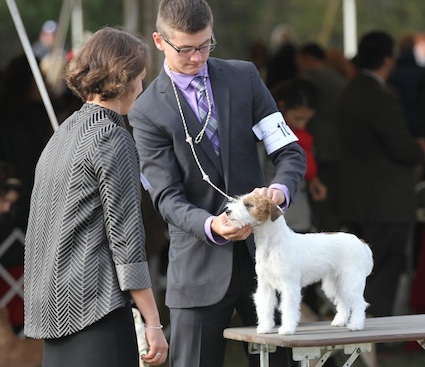 If you complain about judging—which everyone appears to do at one time or another—and you can physically travel, stand in the ring for hours, and withstand the hostile looks from those who did not win, you should consider becoming a judge.
You may first want to volunteer to judge your club's sweepstake events or futurities. This is a great way to impact the future of your breed, as you evaluate the upcoming breed winners and determine the strengths and weaknesses of your breed. This benefits the breeder, especially if a written review of your findings is shared with club members in the club's newsletter.
Once you go through the judging process, you may have more respect for the work judges do, in addition to the time and money they have invested in attending seminars or learning about your breed.
National clubs must also take an active role in promoting new judges by offering newcomers an opportunity to learn about the breed and to judge their events.
Take the time to become a judge, and develop a thick skin. You may need it.
—Carol Kearney, United States Kerry Blue Terrier Club; May 2015 AKC Gazette