Morris & Essex. It was, without a doubt, dogdom's true classic canine event. What excitement! What incomparable beauty! How dearly I wish that a greater number of current fanciers had been around during those years in order to have personally experienced what it was like. Because truly this dog show was remarkable in every sense of the word. It shall forever remain, to all of us who ever attended it, the dog show par excellence. It was never equaled, much less ever even close to being excelled.
The Show's Founder and "Lady Bountiful": Mrs. Dodge
The late Geraldine Rockefeller Dodge, John D.'s niece, who was the wife of Marcellus Hartley Dodge, the grandson of the founder of Remington Arms, was the "Lady Bountiful" behind this extravagant and extraordinary series of dog shows. I have no doubt that the major portion of the expense involved in staging such a memorable event was her own personal gift to the fancy.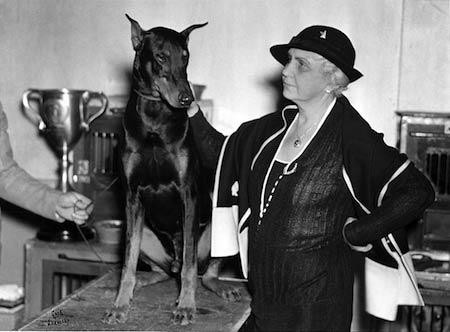 Geraldine Rockefeller Dodge, shown with her Doberman Pinscher [Ch.] Ferry v. Rauhfelsen of Giralda, a German import, after his having won Best in Show at Westminster in 1939. (Photo courtesy St. Hubert's Giralda)
For although 50,000 or more people attended each show from the late 1920s to the late '50s, things were done on so lavish a scale that it could not possibly have broken even financially. Morris & Essex asked nothing of fanciers beyond that they come and enjoy. Trophies were not solicited. The catalog carried no advertising. It has been estimated that the cost of each Morris & Essex event ran in the area of $70,000. Think of what it would be now!
Morris & Essex was held almost every year from May 1927 to May 1957. The only interruptions were during World War II, from 1942 to 1945, and in 1954.
Following the 1957 event, a difference of opinion arose between Dodge and the American Kennel Club regarding the date for the following year, which resulted in Dodge's decision to hold no further shows for her club. And so this magnificent tradition in the dog show world came to an end [until the show's recent revival].
The Show of Shows
How does one even begin to describe what Morris & Essex was like? There were six enormous tents, one for each of the six variety groups, with banners flying. Under each tent was the benching area, as well as ample space for large rings to replace those outside in case of rain. When the weather was fair, these rings beneath the tent stood idle, but they were always available and ready when the need for them arose.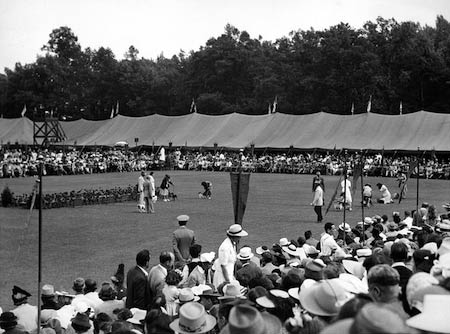 Judge Walter Reeves surveys the Toy Group at the 1941 show, the last before the events resumed after World War II.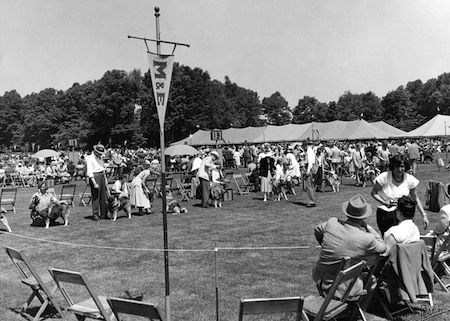 Norwegian Elkhounds are judged in 1951. After a postwar curtailment of entries, the show grew again until it achieved all-breed status in 1953.
Dogs, exhibitors, judges, and spectators never had to endure the elements unprotected at a Morris & Essex dog show. It has been estimated that approximately 160,000 feet of tenting were in use for this event each year. Also, no one ever tired from standing up all day, as Morris & Essex provided hundreds of folding chairs for the use of the exhibitors and spectators.
Utopian? You bet it was!
Every ring at Morris & Essex was enormous. As for the grounds, they consisted of acres of carefully tended, green-velvet grass. What a sparkling sight as one drove in on a lovely May morning. The grounds consisted of lawn — very different from the turf on which our dogs are generally gaited nowadays. Dodge had a full-time staff in charge of the show grounds, working year-round keeping it rolled, seeded, fertilized, and closely cropped. This was of great importance to Dodge, who took pride in the appearance of her show grounds.
On June 17, 1953, I received a note from her, after I had been unable to attend that year's show, in which she commented:
"I was disappointed that you could not attend M&E this year, as it was one of the best shows we ever had. The weather was perfect, the foliage particularly lush, and the field never looked better."
These were the words of a true perfectionist, to whom even such a small detail as lush foliage was important.
—Anna Katherine Nicholas, from the September 2000 AKC Gazette
For information on the 2015 Morris & Essex Kennel Club dog show and more of the club's fascinating history, visit the Morris & Essex website.