Kim's very first agility dog has turned out to be a superstar. MACH7 Logan Lake Hope ("Logan") has not only earned the AKC Master Agility Championship seven times over – she has made the finals and placed in many AKC Agility Invitationals and AKC National Agility Championships. But Kim tells us that it was not always smooth sailing when she and Logan first started competing.
First Trial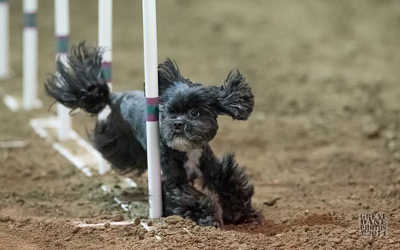 My first trial... Hmmmm. I will never forget it. I even remember the judge Janet Budzynski. I am fairly new to this sport as I'm still running my Novice A dog Logan. It's been a little over six years since our first trial.
Logan was a week or so past 15 months old at our first trial. People told me to enter her in the FAST class since it would be first and it would be a good practice run before the important runs.
Logan was great! She did everything I asked of her with perfection BUT it backfired for our next runs. You see, Logan loved the game so much that when we left the course after her FAST run, she realized it was game over. No more running.
In our briefing for our next run, Janet asked if it was anybody's very first trial. Of course I raised my hand. I feel this helped my case for after her run. You see after her perfect qualifying run, Logan decided she wasn't done. When she realized we were leaving the ring, she started zooming around the ring taking any obstacle in her way.
I was utterly horrified until I saw Janet cracking up. It took some time to finally catch her. I was so grateful Janet had asked the question in the briefing and had a sense of humor. Logan went on to Q in all her runs that day but it wasn't until she was about 2 1/2 years old before she stopped running away from me at the end of our runs.
My Tip for the Newbie
Just remember no matter what happens the best thing is the fun you had with your dog. Not the Q or the placement. Most of my most memorable runs I've had are my NQs because Logan was being her ornery self and it takes me back to that first trial. Be able to laugh about your mistakes but more importantly learn from them.