Don & Leah are the proud owners of MACH 7 Samantha MXG2 MJC2 MXF MFC TQX T2B5. Sami has been a trail blazer in the AKC Canine Partners program, being one of the first All-American Dogs to earn the Master Agility Championship; the first All-American to earn the TQX title; and among the first five All-American Dogs to be invited to the AKC Agility Invitational. Today, Sami is 10 years old and just earned her seventh MACH. "She is having the best time, consistently Q'ing, and her tail wagging at every finish," Leah said. "The reward is an amazing experience for the human and best fur buddy."
First Trial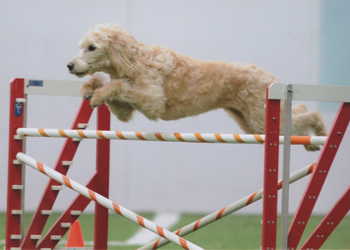 Our first agility competition was in July, two days of trials, outdoors, very large, and the hottest weekend of the year with highs of 90 to 100. We set up close to the Novice ring.
Day One
Sami did obstacles, visited ring crew, looked for family members, found them right outside the ring, and ran out of the ring. Encouraged by Don, she returned to her partner in the ring. We were very discouraged and thought maybe agility isn't for us. Boy, it's suffocating, hot and humid, whew!
Tip one: Don't set up right next to the ring.
Day Two
Sami figured out some of the game. This is fun. We qualified, and everything changed. All of a sudden we were looking forward to entering our next trial.
Tip two: A positive attitude and having fun leads to success.