In his native Hawaii, they called him "Mr. Dog Show." In show rings on the U.S. mainland and around the world, they called him Mr. Zane.
Arthur K.Y. Zane began in dogs in the early 1930s as an exhibitor of German Shepherd Dogs. His Honolulu-based Kuliouou Kennels would import the first Poodle and first Afghan Hound to the islands, and later Zane added Great Danes, Boxers, Cocker Spaniels, and Fox Terriers.
He was a founder of the Hawaiian Kennel Club (born out of the old Honolulu KC) and served it continuously throughout his long life. This included a decades-long term as president (1946 to 1977). Along the way, he helped organize local Poodle and Great Dane clubs. He remained president emeritus of the HKC until his death in 1993.
The North American fancy knew him best as a distinguished and popular all-rounder judge. "On the mainland we know the gentleman, and that he is, as an arbiter, for he has ruled all the big ones— Morris and Essex, Westminster, International," wrote Walter Fletcher of the New York Times.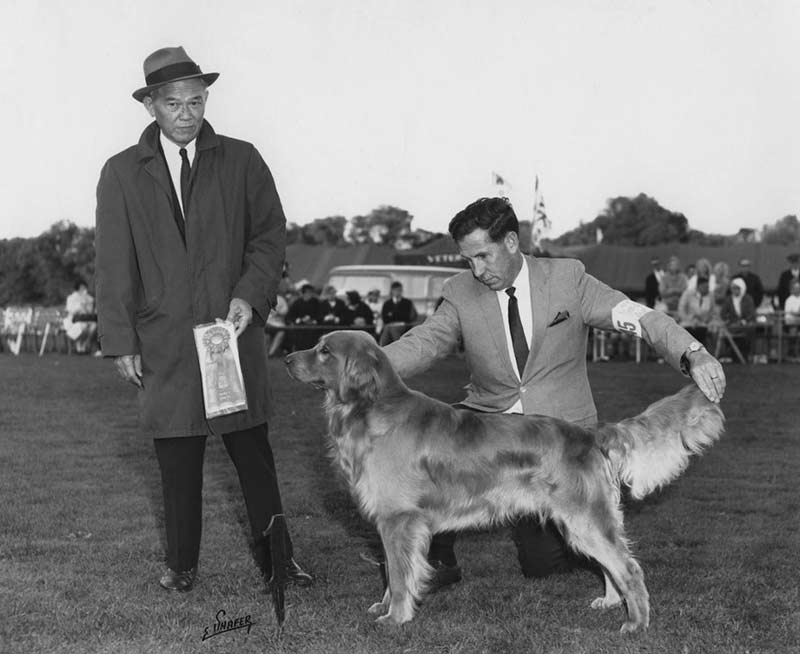 Zane was one of the very few AKC judges approved for both all conformation and all obedience events. International assignments took him to South America, Australia, Tokyo, the Philippines, and Hong Kong. A highlight was judging the Working Group at Westminster, 1964. (He put up the Boxer Ch. Treceder's Painted Lady, making it her second straight group win at the Garden.)
The HKC website honors him as the "foremost sponsor of purebred dogs in Hawaii" and goes on to say, "Arthur Zane was also an influential advocate of Hawaii and the Hawaiian dog world … often carrying with him his ukulele and straw hat to add entertainment to the after-show parties."
The family name remains an important one in the Hawaiian fancy. Zane's, nephew, Reuben Zane, is a longtime member of the HKC. He and his wife, Shirley, offer the club's Arthur K. Y. Zane Memorial Trophy. —B.B.
Photos from AKC Gazette archive:
Harbor Cities KC, 1948: Judge Arthur Zane awards Best Team in Show to a Great Dane quartet from John G. McEdward's Dane Eden Kennels. The handler is Russell Zimmerman, who guided Ch. Dane Eden's Delilah (second from left) to a Working Group win under Zane at the same show. (photo by Joan Ludwig)
Westchester KC, 1967: 5,000 miles from home, Arthur Zane gives his Sporting Group rosette to Golden Retriever Ch. High Farms Sutter's Gold, handled by Bill Trainor for owner Lester Browne. (photo by Evelyn Shafer)