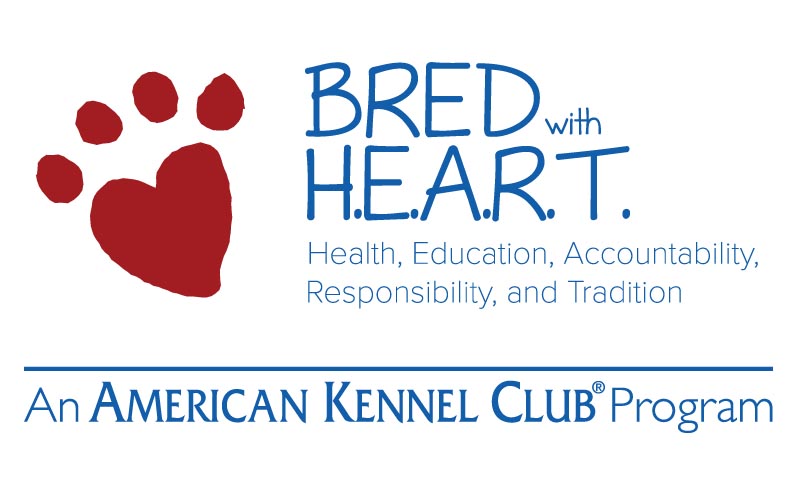 As part of AKC's century-long commitment to advance the health and welfare of all dogs, the AKC introduces a new program called Bred With H.E.A.R.T. The program gives AKC a new way to engage, encourage, and recognize all breeders who meet specific health testing standards and who participate in continuing education.
Breeding comes with great responsibility, but preparing yourself with knowledge will ensure a rewarding experience. The AKC Education portal, sponsored by Royal Canin, offers courses covering a wide range of breeder education topics, such as breeding basics, genetics, selection, and anatomy. Bred With H.E.A.R.T continuing education units (CEUs) have been associated with each course. AKC Bred With H.E.A.R.T members must complete 4 CEUs per year.
Famed dog author and breeding expert Claudia Waller Orlandi, Ph.D. has partnered with AKC to make her books, "ABC's of Dog Breeding" and "Practical Canine Anatomy & Movement," available on the Breeder Education web pages. The AKC Canine Health Foundation in collaboration with Zoetis and Royal Canin have also provided content discussing the areas of whelping and the impact of canine nutrition on reproduction.
Many breeders have taken advantage of the free educational material since the launch of the breeder education platform. Feedback from these breeders has been positive and they look forward to continuing their studies.
Click on the link below to visit the AKC Education portal and choose Breeder Education. To complete coursework, take the self-directed tests at the end of each course/lesson.