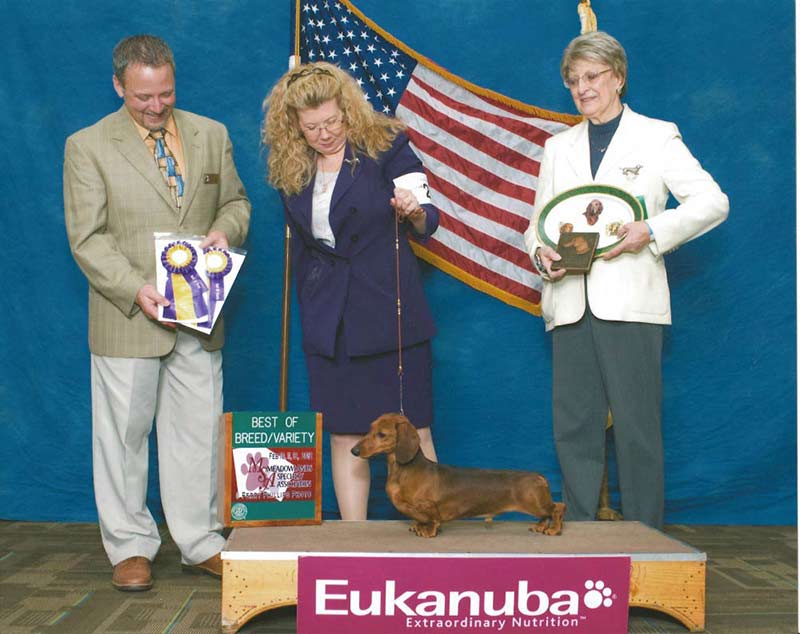 Each month the American Kennel Club profiles breeders to hear about how they got started, their breeding program, and their experience with AKC Marketplace. We recently spoke with DynaDaux Kennel's Cyndy Senff, who breeds Dachshunds. Cyndy started showing dogs in 1989, after her husband encouraged her to find a weekend hobby. Today, she is an AKC Breeder of Merit and has bred more than 130 AKC conformation champions.
AKC: Tell us about your breeding program.
Cyndy Senff: DynaDaux is located on the outskirts of Austin, Texas. I started showing miniature Smooth Dachshunds in 1989 and breeding in 1990. I have bred more than 130 AKC champions. Later on I added a few miniature Wires to my breeding program. I am a licensed AKC Dachshund judge and currently sit on the board of directors for the Dachshund Club of America.

How did you get started breeding?
Funny story! I was always animal crazy and always wanted to have puppies. In the late 80s I married a tournament bass fisherman. He wanted me to have a weekend hobby. Boy, did he ever regret that plan! A wife of a bass club buddy, Kay Joiner of Sterling Yorkies fame, pointed me to the dog fancy. I searched for a couple of years for a black-and-tan miniature Dachshund bitch and during that time studied the breed standard, dog showing, breeding, and genetics. The best thing to happen to me was that time of study. Had I wanted a red Dachshund, my success might not have had the benefit of all the effort I put in!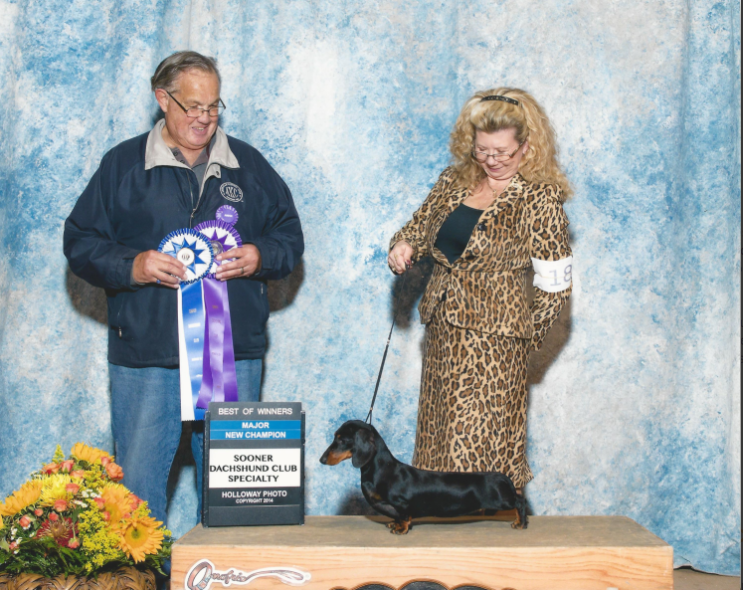 Most important thing to know about your breed?
Dachshunds are a big dog in a small package, with a personality larger than life. They need structure and thrive best when their human(s) are the pack leader.
How has AKC Marketplace helped you find puppy buyers?
The AKC Marketplace has made it easy for buyers to find breeders, and the fact that the marketplace showcases Breeders of Merit has benefited those that qualify. I have definitely received more inquiries since building the DynaDaux page on the AKC Marketplace.
Favorite question to ask puppy buyers:
"Please tell me about prior/existing pets, your home/yard/family/work schedule, and anything else you would like to share." I let people respond to this, and then based on their answers delve into any spots that are of concern or might need clarification. I always want to know what happened to prior pets, and when you hear they went to the bridge at a ripe old age, it is probably a good home. I always ask if they have a swimming pool, and if it is fenced.
Top qualities you look for in potential owners:
Obviously homes with knowledge and means to be a responsible pet owner are a must. By the time they have responded to my inquiry listed above, I have a good idea if they are a quality home or not. If they don't respond or won't bother with my inquiry, then that also tells you something as well.
Best advice you'd give to novice breeders:
Knowledge is power. Educate yourself before you put your bitch in the whelping box. Breeding animals is not a frivolous activity, and what you know and don't know can be a life or death matter. There is no excuse not to study! All you have to do is get on the Internet and/or search on AKC.org.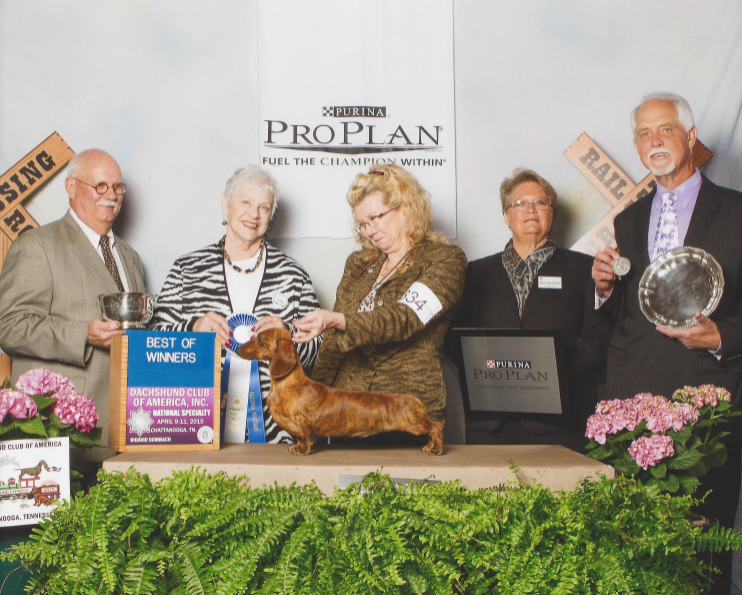 Do your dogs participate in AKC sports?
Yes, conformation is my main focus, although I have finished dual champions, as well as some Earthdog titles. I place DynaDauxies in performance homes on a regular basis and take great pride in the owner's success with my breeding.
What is your favorite thing about being a breeder?
The puppies. I don't have children, and I love the whole process once they are born. All the little stages are wonderful, with the best being around 4-to-5 weeks when they get their own little personalities. The excitement of 'Is the next big winner in there?' makes you pop your buttons and is the icing on the cake.
Do you have a favorite breeding story?
Yes, my second litter had a very precocious black-and-tan female that popped her head out and started nursing before she was even completely born! Let me tell you, that one lived life that way until she was 17-and-1/2-years old. For those reading this that know her, yes, I am talking about the one and only like her —Vickie Jean.