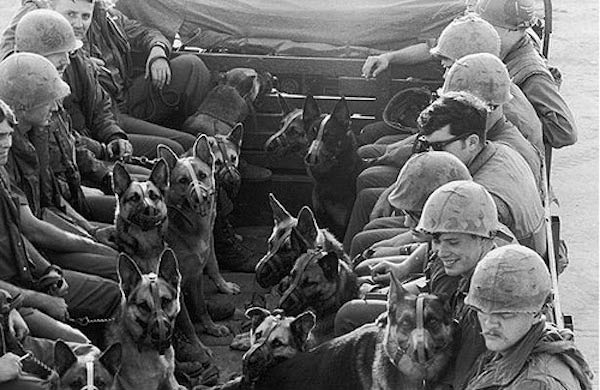 By: Bob Pierce
Special to the AKC Gazette
Vietnam veteran Bob Pierce shares memories of working with his US Air Force Sentry Dog, Waco.
We were young kids, all volunteers, and the first with our dogs to serve in RVN (the Republic of Vietnam, or South Vietnam). To us it was a change of pace, something fun. We had no idea what war was or how our dogs would respond. We had trained for it as teams, talked about it, yet only the experience of it provided the answer.
Being the first dog handlers was problematic. On our first posting we were armed with a .38 revolver and 18 rounds of ammunition, which was standard stateside; they must have thought of us as invincible, and we protested, but soon we were given an M-1 carbine, two grenades, and sufficient ammo. We were told that the Viet Cong thought of us as some kind of supermen with dogs and there was a bounty on us. Fact was the dogs' senses ruined the stealth advantage the VC had; we owned the night. Later we were supplied with the new AR-15 rifle, which we really liked as it was much lighter.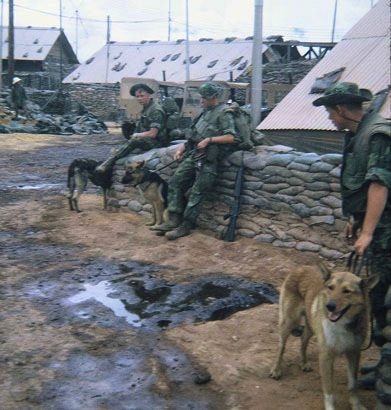 I remember the smells of Da Nang, the heat and the insects, and often wondered how Waco could stand them. We walked through a lot of oily muddy goop, a real mess. (Today that place is a tourist mecca, and people are fined for littering; how things change.)
On duty there were radio checks confirming your safety and post activity, but you often spent hours alone, often in pitch dark, with your dog. Our favorite post was around the aircraft, as we could set our C rations on the runway lights and by mid-shift the food would be warm, and I'd share half of mine with Waco.
The great dog show handlers will tell you there is nothing like those moments of perfection during a trip around the ring when you and your dog are one and there is no crowd, no judge, no noise, just the purity of teamwork. Those of us on post experienced this often, and the bond we had with our dogs is forever.
We left RVN knowing we had proven the worth of the Sentry Dog program. The sights and sounds of combat changed us all, and leaving our dogs behind left an ache never relieved. I often think of the look he gave me when I came to his kennel to brush him and play—yes, we played. I would sort of duck my shoulders, and he would do what I called a "false alert," as though he was going to get me.
I try hard not to think of the last visit, but I hugged him and told him I loved him. Their spirits reside within us all forever.
My career in dogs started the first day I walked onto the Lackland Air Force Base dog school, which is still there, and I have been blessed to continue all these years. —B.P.
* * *
Bob Pierce served in the USAF Sentry Dog Program from 1963 to 1967. With his wife, Kay, he was co-owner of Keen Kennels in Ft. Lauderdale, Florida, from 1970–1990. He was an AKC Licensed Professional Handler from 1972 to 1982 and judged sweepstakes at several AKC specialty shows in the 1980s. He was national president of the American Boarding Kennels Association from 1980 to 1985, and with Kay was co-owner of the Rocking C Ranch in Polson, Montana, from 1990–2000 and was a 4-H Dog Project Leader in Johnson County, Wyoming, from 2000–2015. He is a past member of the Board of Directors of the St. Francis Animal Shelter in Buffalo, Wyoming.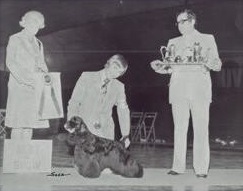 At present Bob is an AKC Canine Good Citizen® evaluator, and with Kay is co-owner of Canine Companions Dog Training. He is a therapy dog evaluator for Therapy Pets Unlimited and serves on the Association of Professional Dog Trainers National Nominating Committee and Bylaws Task Force. He is a member of the Central Wyoming Kennel Club and is a 4-H Dog Club Leader in Putnam County, Florida.
Bob has been married for 51 years to Kay Pierce, who is also an Air Force veteran. Bob says:

"We met while I served at the USAF Dog School, and she worked at the base hospital where we obtained our vet clinic supplies for the dog kennel. We now reside in Palatka, Florida, and currently offer Canine Good Citizen® training classes, behavior consultations, and obedience, rally, and agility classes at Saddlestring Farm, our home in the country. In our spare time we work with our two adopted BLM mustangs, enjoy trail riding, and enjoy spending time with my parents and our daughter, Tracy. And yes, once in a while we attend an AKC show and stay to watch Best in Show, and maybe one day I will sneak back in the ring again. I'd sure love that."

Top image: Vietnam sentry dogs and handlers, 1969 (Creative Commons)