Newsreel footage recently added to YouTube provides a rare glimpse of the Morris and Essex Kennel Club show at the height of its prestige and splendor. In these short films dog-show greats of yesteryear, known to most of us only as static figures in old photos, come vividly to life.
In the second of this three-part series we take a look at the Morris and Essex show of 1950, a bellwether year for the sport of dogs and the nation at large.

The Backstory
The 1950 Morris and Essex Kennel Club show—as always, presided over by club president and patroness Geraldine Rockefeller Dodge—reflected a shift in population and attitudes underway in the decade following World War II. The 1950s would see the rise of jet travel, interstate highways, network TV, and other innovations that connected Americans coast to coast in ways previously unimagined.
In the prewar era, Eastern elites dominated U.S. dog shows. Mrs. Dodge was but one of many wealthy East Coast hobbyists whose kennels were stocked with scores of imported and home-bred champions. The most glamorous show dogs, the most prestigious shows, and the most influential dog writers of the prewar era were—with notable exceptions—in the East. There was a thriving Western show scene, of course, but the great dogs of the West were not often exhibited East of the Mississippi.
If we could point to a moment when it started to change, when the sport of dogs first began to see itself as a truly cohesive national institution, it would be the Morris and Essex show of 1950. One can almost feel the winds of change in the event coverage filed by the AKC Gazette's ringside reporter, Arthur Frederick Jones. He described the Best in Show dog as a "properly put-together, American-bred Irish Setter from the tall corn country, Ch. Tyronne Farm Clancy, bred, owned, and handled by Jack Spear of Tipton, Iowa."
Jones continued: "Clancy's elevation to the top of America's largest outdoor show marked the first time this honor has gone to a dog from west of the Mississippi River. …
"A consistent winner in his own part of the country, Clancy's venture into the 'big time' could not have been more dramatic, particularly as he was called upon to face the almost unbeatable best-in-show winner of last year's Morris and Essex, the great imported Scottie, Ch. Walsing Winning Trick of Edgerstoune, to say nothing of many other celebrated winners. But when the Irishman had turned back all, there were nothing but compliments and applause from officials, authorities, and the remaining members of a crowd of more than 20,000 that flocked to the New Jersey countryside and saw a judge from California place the seal of approval on a dog from Iowa."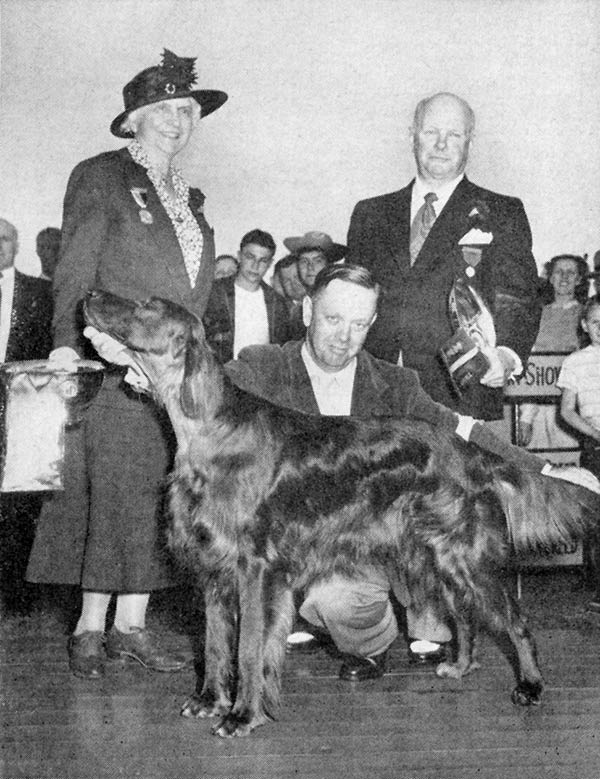 The Film
The brief clip is a product of British Movietone News, an offshoot of 20th Century Fox that produced newsreels for the U.K. market. Of the three videos seen in this series, it's the least satisfying—none of the dogs or fanciers, not even Clancy, is mentioned by name—but it does have its charms, especially in the Borzoi and Bulldog rings. In the final seconds we get a good look at Clancy, in full profile and in a sweet close-up.
The Big Finish
In his first-ever East Coast show, the 4-year-old Clancy won Morris and Essex over an entry of 2,587. "I think he's a terrific setter," Best in Show judge Hugh "Bud" Lewis, of Pasadena, California, told the press. "As a matter of fact, I think he's the best I've ever had my hands on, sound as a dollar, a nice mover, nice size, and as good as they come."
Clancy racked up an impressive career record: 19 Bests in Show, 44 group wins, and 63 Bests of Breed for Jack Spear's Tyronne Farm kennel. More important, his big win—and, it should be added, judge Lewis's popular choice—encouraged other Western exhibitors and judges to come East and make their mark in a newly mobile America.
See part one of this series here. For more on Irish Setters, visit the Irish Setter Club of America.