Much has been written and celebrated, and rightly so, about the important service to mankind performed by military dogs—their great heroism and sacrifice; their devotion, intelligence, and loyalty; and their amazing work and physical feats.
Perhaps less acknowledged, however, is how during wartime the love of dogs at home—and the love of the sport of dogs as well, for those involved—embodied what was good about "real life back in the U.S." Thoughts of those dogs, and those days, were part of a soldier's or sailor's happy memories that kept him or her grounded while on the battlefield or at sea. They were cherished reminders of what they were fighting for, as demonstrated in the poignant letter below, received by the AKC Gazette in the spring of 1944 and printed in the June issue following.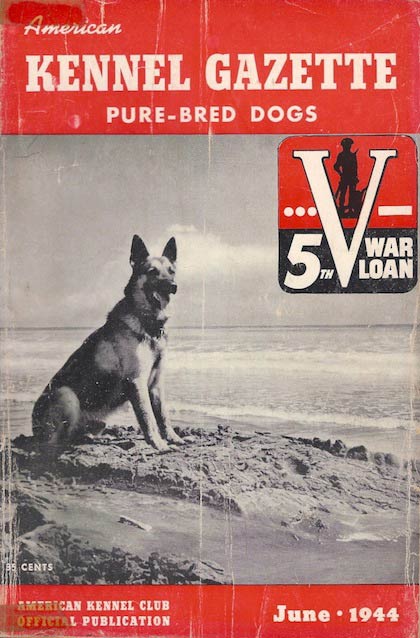 Dear Editor:
Things have been so changed in life, that what once was ordinary seems so far away. It seems ages since the good old days of dog shows. I came across the article in Life about the Kettles … and the shots of Westminster really made me realize how far away I have drifted from those happy times.
I have been overseas a long time now, and at sea constantly for the past two years. It is not an easy life by any means but fortunately we are so busy with the job at hand that there is no time or inclination to think about home and life as it used to be. I don't even receive any dog magazines any more as the mail service for anything less than first class mail is practically non existent as far as ships at sea are concerned. Even air mail has a hard time catching up with us and that is sometimes months late.
Dogs just about stopped for me with the news, sometime back, that my favorite, a noted champion that we called "Nandy"—my pride and joy—died. I last saw her in California the night before I left the States. That last night when I said goodbye to the dogs I knew that I would never see Nandy again, for the chance of her living through the duration was remote. She died about a month later after my wife returned to Boston with her. When I received the news, even though I half expected it all along, it just seemed that dogs and everything in the past connected with them, came to an end. Nandy won at some of the best shows in the East; she was much photographed and her pictures appeared in a variety of magazines. She produced four litters in between her show wins. But it was not as a show dog that Nandy meant anything. She was a great deal more than that. Even when we had many dogs at the kennels, Nandy was always the house pet. She was the queen of them all, and she knew and so did all the other dogs. Her place was never disputed by any dog we ever owned and when the war came and I had to let all the others go, Nandy stayed, of course, and went with us wherever we were sent until I left the country. She was a grand animal, a grander personality, and the most affectionate and devoted companion that one could ever ask. I miss her greatly and will miss her more when this war is over and I come home again.
I hope that everything is fine with you and that the Gazette is as good as ever, and I know it is. —W.B.
The Gazette is doing its best to keep those in service informed of dog activities here in the States, but as this letter shows the mail situation cannot always be solved. —Editor.
______________
[Note: Unfortunately we at the Gazette don't know the full identity of "W.B." and "Nandy"; the above is all we have to go on. If anyone can help to track down the information, please e-mail the editor.]
In the same Gazette issue, editor Arthur Frederick Jones comments, in a preface to the "Spotlighting the Shows" section:
"Some of us may imagine that dog shows are strictly a home front activity, but once in a while we receive a letter which points out, definitely, that all who make up the dog game have a sacred responsibility to countless thousands of the boys out there doing a job for that same home front. That responsibility is to try to maintain the semblance of things as they were, for that is the way the lads on the firing lines want it. They cherish their memories and they hope and pray that when their job is done the old scenes, the old way of life will not have changed from what existed when they went away. So no matter how much our time is consumed in work furthering the war effort—and some of this is wrapped up in dogs and shows too—the over-all picture must retain at least a semblance of its old, familiar colors.
Jones then continues on with the regular report on shows—with excerpts shared here to give a peek into the dog-show world of the 1940s:
"As mentioned last month, the number of dog shows for 1944 is on the increase, so the sentiment expressed above seems in a fair way of being carried through. And this month we have reports at hand from coast to coast. These follow:
"From California … at Burbank the California Junior Collie Clan whipped up a lot of interest for its recent fifth annual Specialty, putting a record-breaking entry of 107 specimens on the benches. More than 500 spectators turned out. Universal Studios, Metro Goldwyn Mayer, and the Valley Times donated silver trophies for the occasion. Lassie of the picture 'Lassie Come Home' gave two exhibitions during the day. Mrs. H.W. Nichols was the judge. Best of breed went to Charles Kneibs' tri-color, Ch. Black Ace of Kelmar … winners in dogs to Rollo of Glamis … winners in bitches to Nancy Haston's Lauriden of Redberry, which, incidentally, spent most of the day in her owner's car nursing a litter of eight three-day-old puppies …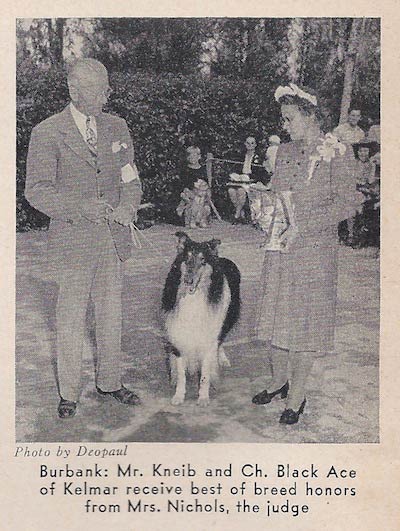 "From Texas … at Lions' Field, the San Antonio K.C.'s 35th all-breed fixture brought out a record entry of 250, 50 more than the best previous mark, and the biggest gate in years … two large tents were used, they being gaily decorated with flags and pennants. Considerable proceeds went to the Dogs for Defense. Charles G. Hopton made the final decision, best went to Miss Betty Lois Celaya's Miniature Pinscher, Ch. Anton v Wurzbach …
"From Georgia … the 32nd all-breed show of the Atlanta K.C. had the best local entry in history, with 265 benched … attendance was much larger … some came to see the exhibition of obedience trained dogs on both nights, this show being presented by Chief Specialist Harland W. Meistrell from the Atlanta Naval Air Base ... profits went to the Army Emergency Relief. Best in show went to Bob Gusman's Cocker Spaniel, Ch. Stockdale High Light …"
[…]
Read more "Times Past" in the AKC Gazette