Anaheim Police DepartmentK9 Bruno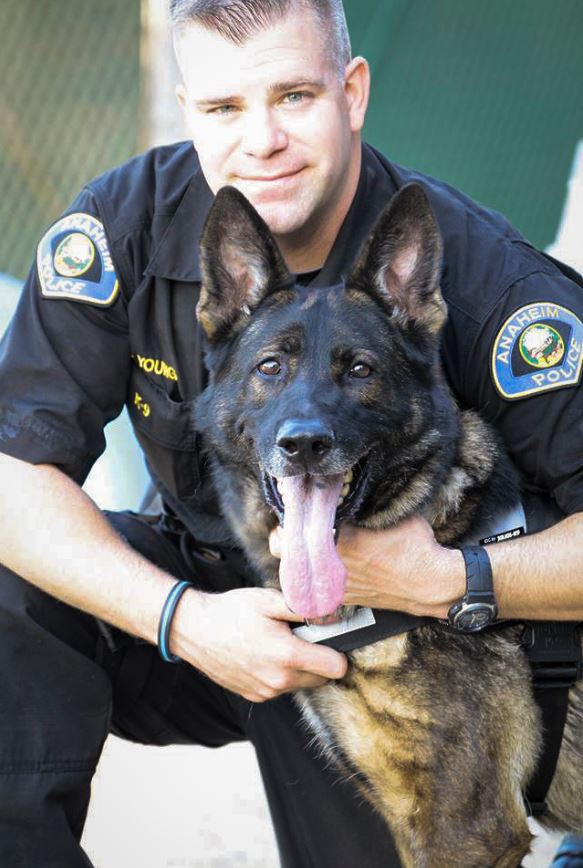 K9 Bruno, a seven-year-old German Shepherd Dog, served with the Anaheim Police Department for six years at the time of his injury. He was given an AKC Humane Fund Award for Canine Excellence (ACE) by the American Kennel Club in 2014 after being shot while assisting the SWAT team with a search. The bullet went through Bruno's lower jaw and lodged in his chest, only about an inch from his heart. After the incident, Bruno retired from his K9 duties and lived at home with his partner, Officer R.J. Young. About two years later, K9 Bruno succumbed to complications from his initial injury.
Bruno was one of two dogs who trained to become part of the SWAT team. He graduated first in his class from the K9 academy and also won first place overall in narcotics during his first ever K9 competition. Bruno was credited with finding millions of dollars' worth of narcotics and narcotic-related money. He was always full of energy and was well known around the department for disrupting briefings by chewing on his red toy. K9 Bruno was a cherished officer, partner and family companion and will be missed dearly by Officer Young and the Anaheim Police Department, as well as every one of the many lives he has touched.